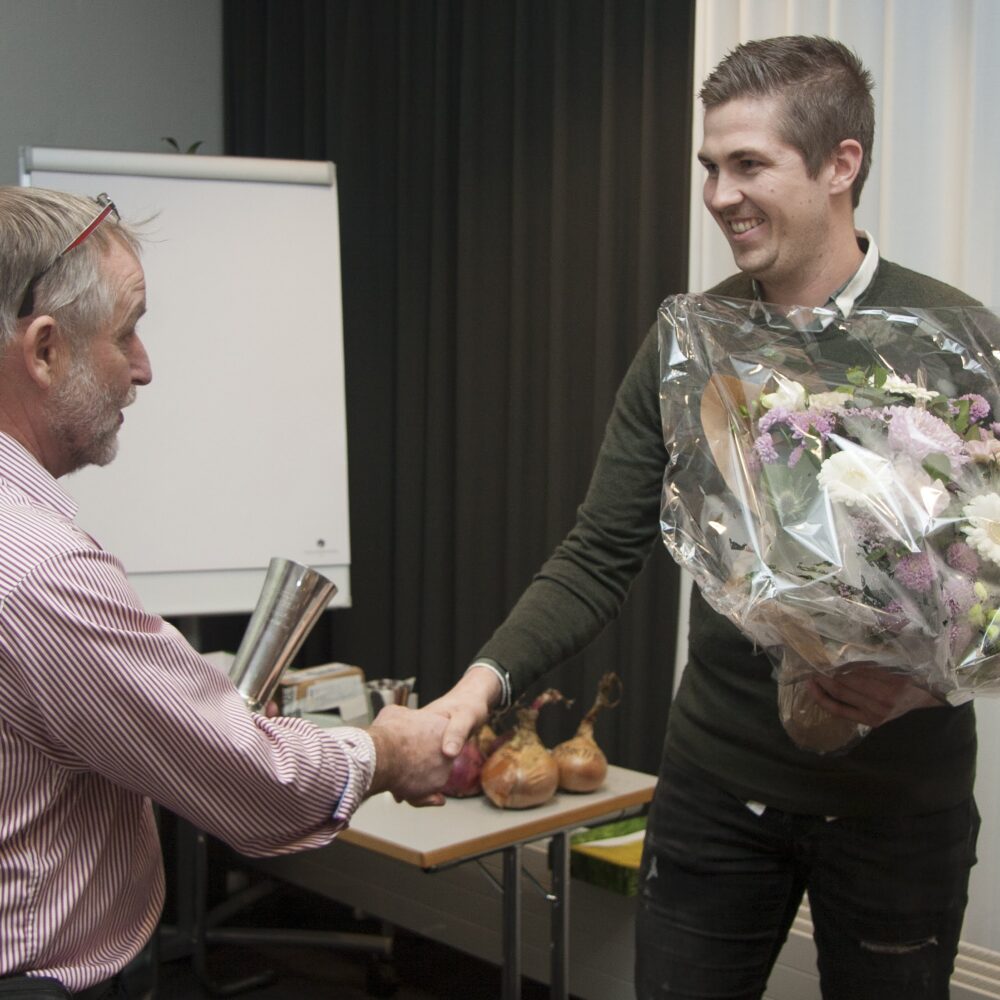 At the Annual Meeting in the Danish Onion Growers' Association which is running these days, Axel Månsson has been awarded as the Organic Onion Grower of the Year 2019.
The award is based on the result: The yield of good, organic quality onions.
In the 2018 season, Axel Månsson came in as no. 2.  – but won the quality competition in organic red onion, the first time that organic onions won the quality competition. For the 2019 season, Månsson came as no. 2 in the red onion quality competition.
Feel free to read more here:
https://danskgartneri.dk/nyheder/taet-loeb-om-prisen-som-aarets-loegavler-2019
https://www.maskinbladet.dk/politik-erhverv/artikel/66556-taet-lob-om-prisen-arets-logavler-2019
https://danskgartneri.dk/nyheder/aarets-loegavlere-skal-kaares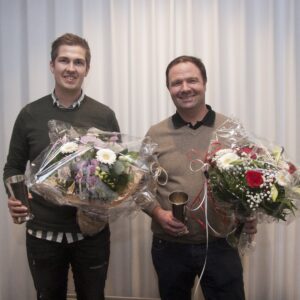 Here are the winners! On the right side Mr Henrik Petersen, Onion grower of the year (conventional production), impressively for the 5th year in a row, on the left side Mr Bjørn Gommesen, Production Specialist at Axel Månsson.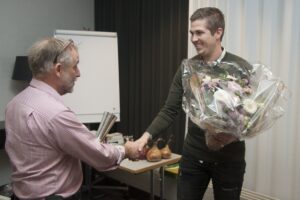 The award is presented by advisor in onion production, Mr Peder Krogsgaard, HortiAdvice, who is also the secretary of the onion association, as well as he does the great work of managing and carrying out the competition.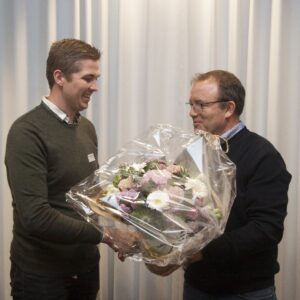 2nd place in the quality competition of red onion. The award is presented by Mr Poul Erik Ølgaard, Olssons Seeds.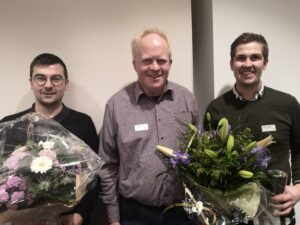 Onion production is teamwork, with many processes involved. Also present were Mr Kristian Utoft, Manager of Production and Operations, and Mr Jonas Lauth Pedersen, Head of Operations, from Axel Månsson.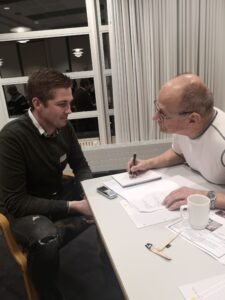 Stig F. Nielsen, editor of the magazine Dansk Løgavl, interviews Bjørn about the onion season in detail.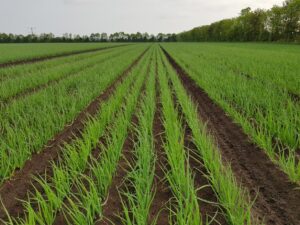 Organic onions from Axel Månsson are produced either from set onions, from small transplants or from direct seeding. The picture shows an onion field with transplants from 2019.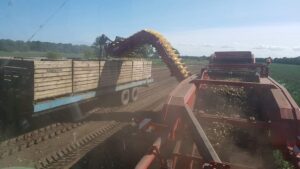 Harvesting onion is done by machine.
In 2019, the onion harvest started on July 10th.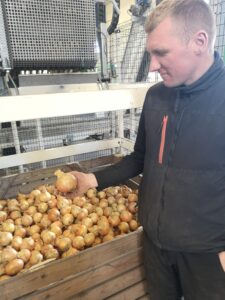 After harvest, the onions are pre-cleaned, dried and stored. Before sale, all onions are colour-sorted (scanned inside and outside), and size graded.
Onions ready for packing and typically sold in onion nets to supermarkets, wholesalers and industry. More and more onions are also used in Månsson's own onion peeling factory, from which onions are prepared ready-to-use as peeled onions, or onions cut into dices or rings.
Photos: Stig F. Nielsen, Dansk Løgavl and Dorrit Andersen, RootConsult.